There are many articles available on the MSDN regarding the brief background about ADFS. In this article, let us see, how to install ADFS 2.0 and configure the initial setup. Probably, ADFS will be installed on a separate server other than the SharePoint farm. In my development environment, I am using Windows Server 2012 for the SharePoint environment and on a virtual machine, installed Windows Server 2008 R2. Now we are going to install the ADFS 2.0 on Windows Server 2008 R2 machine. In this case, my machine name is WIN2008R2. Let us use this as the ADFS Server.
We can download the ADFS 2.0 installer from the link
http://www.microsoft.com/en-in/download/details.aspx?id=10909
After downloading I saved the installer on my local disk. Let us follow the steps.
Note:
Before start installing, we need to create a self signed certificate on the ADFS Server. To create a certificate from IIS, already we have a separate article. If you want to recollect, I recommend to go here and refresh yourself. Here I am assuming that, we created the Certificate and the name of the certificate is ADFSCert.cer.
I. Installation of ADFS 2.0
Browse to the Physical hard drive of the AD FS sever where you have AD FS 2.0 setup.

Right click the Setup and select Run as Administrator.
Click Next button on ADFS 2.0 Welcome wizard to continue with the ADFS installation.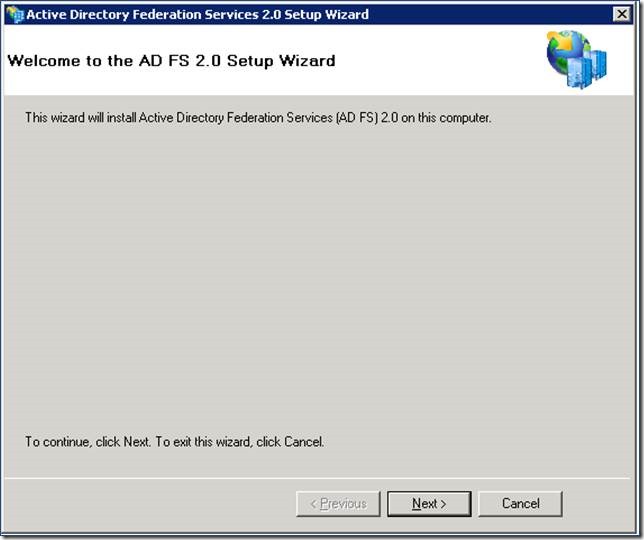 Click on end user agreement to continue with the setup.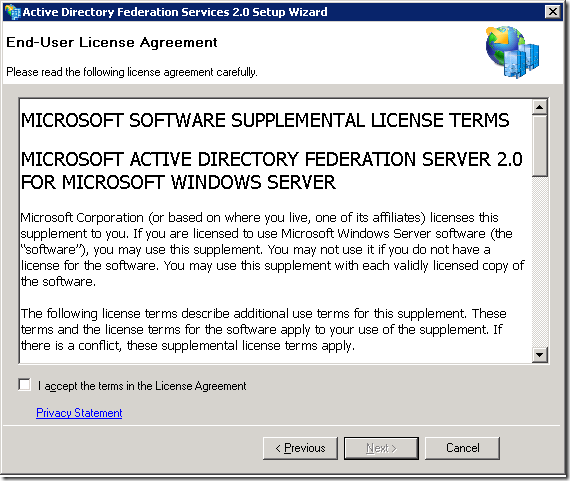 Select Federation Server Role for the AD FS 2.0 installation.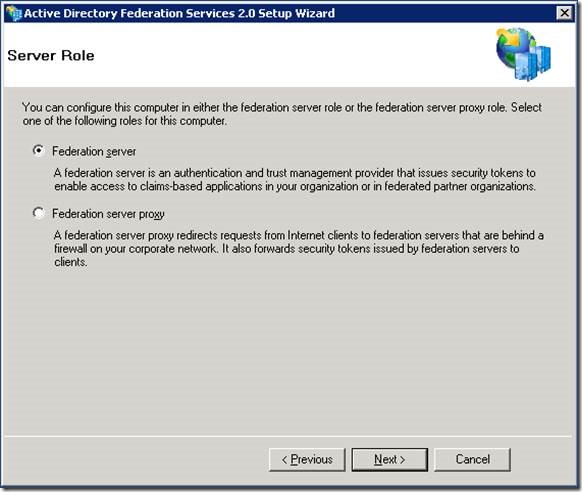 AD FS setup wizard will prompt for list of prerequisites to be installed.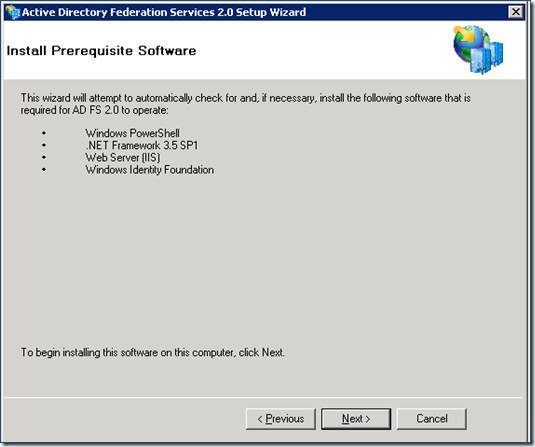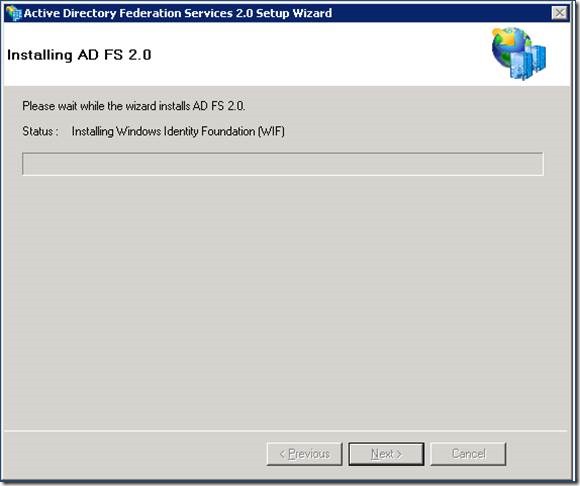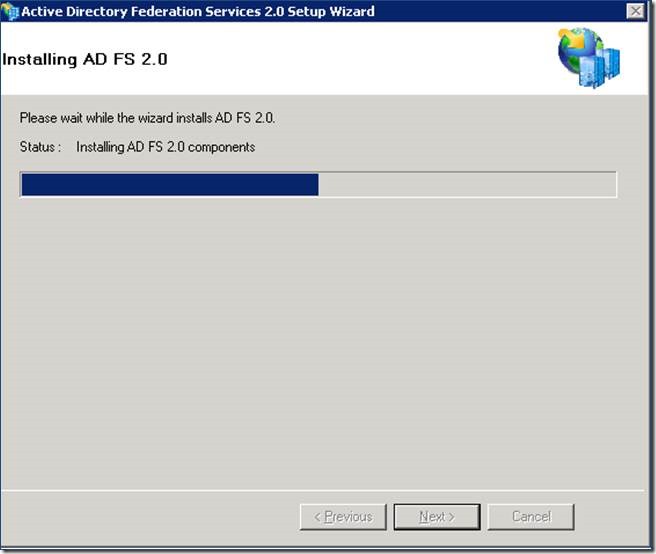 AD FS setup wizard will be completed and it will start the AD FS 2.0 management console.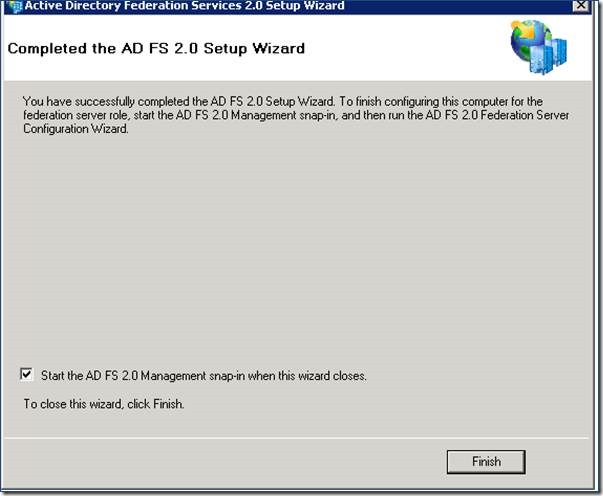 Now the installation has been completed. Once we click the "Finish", the Configuration Wizard will be started.
II. Configuration of ADFS 2.0
Open the AD FS 2.0 Management console.

Click AD FS 2.0 Federation Server Configuration wizard in the console.
Create a new federation service in federation server configuration wizard.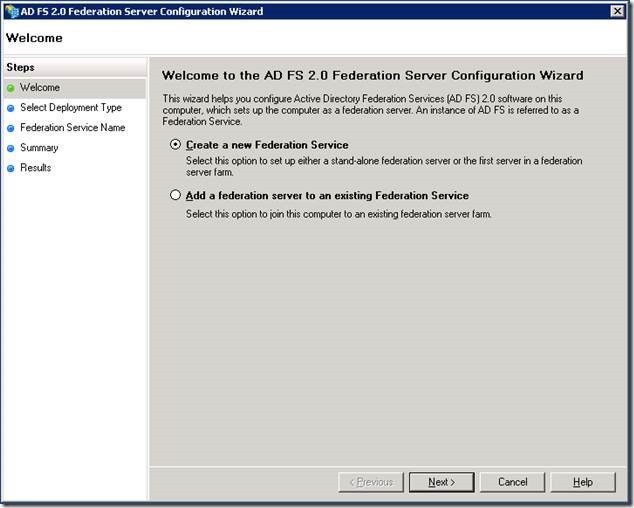 Select AD FS 2.0 Standalone federation farm in wizard.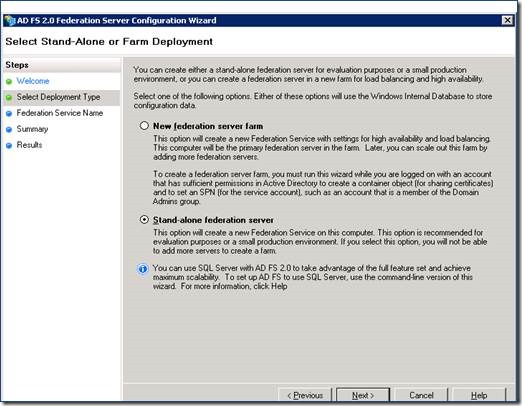 Select self-signed certificate that we have created (Refer Creating a Certificate for ADFS installation section) from the SSL Certificate Drop Down service in federation server configuration wizard.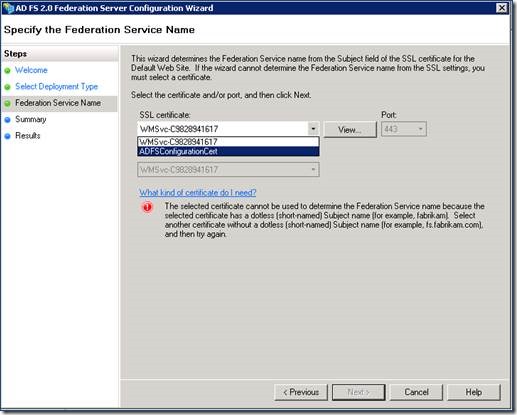 On clicking Next button, AD FS 2.0 setup will configure the below mentioned features in AD FS server.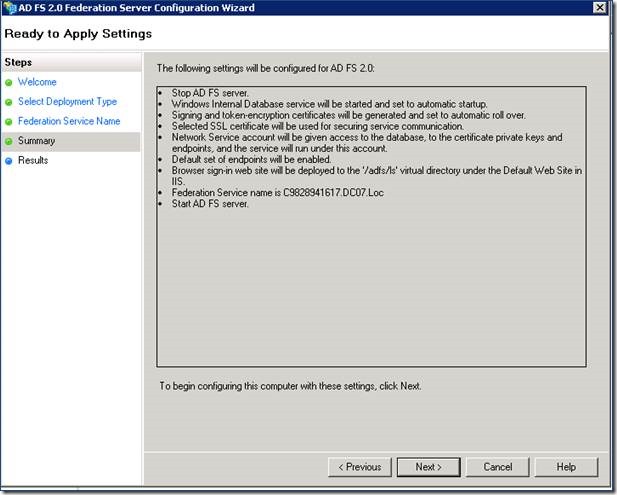 The status of ADFS configuration steps will be displayed in setup.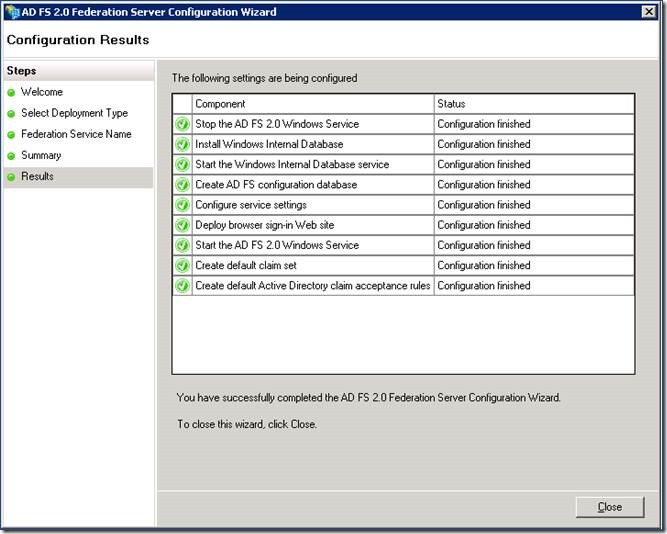 Click close button to configure AD 2.0 federation server configuration wizard.
III. Verification of ADFS 2.0 Installation.
Use the following steps to verify AD FS 2.0 installation:
On AD FS server, open Internet Explorer.
Browse to the federation metadata URL.
In our case the ADFS Server Name is Win2008R2 and the Metadata URL is
https://win2008r2/federationmetadata/2007-06/federationmetadata.xml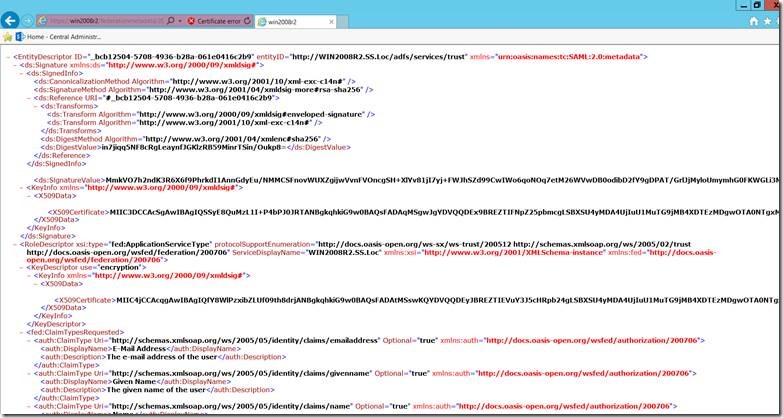 Verify that no certificate-related warnings appear. If necessary, check your certificate and DNS settings.
With this, we learnt how to Install and Configure ADFS 2.0 on the Dev environment.