Nintex is one of the best and coolest way to implement Workflow in your SharePoint environment. Well, it is a Workflow Automation Platform released by Nintex. Apart from Nintex Workflow they have other awesome features & products like Nintex Forms, Nintex Mobile, Nintex Live, Hawkeye (To Manage Nintex) and so on. Here, we are going to concentrate only on Nintex Workflow and how we are going to use that in our SharePoint environment.

The beauty of Nintex workflow is that there won't be any code required to implement workflow, all we need to do is some button clicks and everyone can do that. Workflow for everyone includes users, designers, developers, administrators. Because Nintex workflows are easy to draw, design, deploy, update, secure and easy to understand. Nintex workflow does not require any desktop client side application, it is completely browser based. Both Nintex Workflow and SharePoint Workflow use the same Workflow Engine inside SharePoint
Nintex Products
Nintex keenly look for release of Microsoft SharePoint product and their versions. So that we can get Nintex for all the versions of SharePoint. Click here to know more about Installation, Troubleshoot and other useful documentations for all the platforms are available in their official site.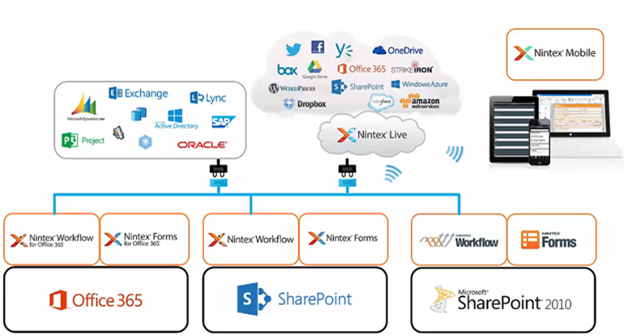 Nintex for Office 365
By using Nintex Workflow for Office 365 and Nintex Form for Office 365, we can collaborate and share across all departments, customers and vendors. We can quickly and easily automate the process in cloud. By taking advantage of Cloud App Model, Nintex has unbroken integration with O365.
Nintex for O365 is built and enhanced for the cloud to deliver as O365 App. It is easy to install and manage in your SharePoint Online site. From the following link you can find both the Nintex Workflow for O365 and Nintex Forms for O365 Apps – App link

Nintex helps to extend the reach of your workflow to new platforms and cloud services. Social integration allows to reach out your workflow from twitter, facebook, yammer and so on.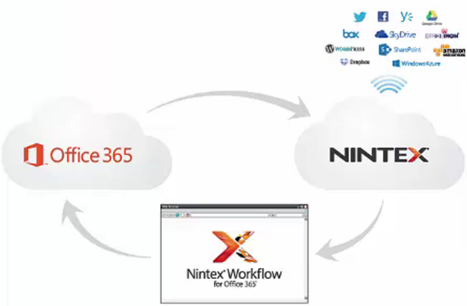 I believe the above information are useful. Let's get back to the core concept and overview of Nintex workflow.
Workflow Planning
When we look into this great drag and drop tools, we don't really think about the process that we want to automate. So here is my little advice and the first thing we need to do is, before automating the process with these tools just think about the process itself.
Whether you can draw the process in a rough sheet or white board or Visio, whichever you think you are comfortable with. Sometime we need to think about the various actors (Manager, Approver, User, IT, Finance etc.) inside of our workflow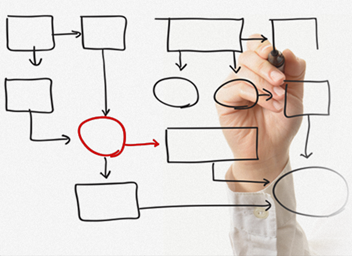 I hope you enjoyed this article. Thank you for reading and I will provide more useful stuffs related to Nintex Workflows in my upcoming articles.