When I try to login to Azure VM using MSTSC got the below exception
The remote session was disconnected because there are no Remote Desktop License Servers available to provide a license. Please contact the server administrator.
The screen shot would be as follows.

Resolution:
1. Use MSTSC /admin instead of MSTSC
2. Use the usual account details to login.
3. Go to Server Manager -> Remove Roles & Features.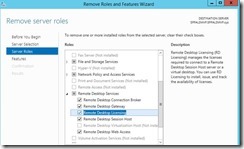 4. Remove the "Remove Desktop Licensing" Role.
5. From the next time onwards, we can use MSTSC as usual.
Happy Coding,
Sathish Nadarajan.